Sigmoidocoele is not uncommonly found in association with redundant sigmoid falling infront of the rectum in a deep pouch of Douglas. In many cases its true significance as a further contributing factor in ODS is missed.
Clinical diagnosis is possible with an educated finger and is often found full of hard faecal pellets anterior to the upper & middle rectum. In many patients there will be a sigmoidocoele, a low lying internal rectal intussusception & S shaped rectum in between.
The functional impact is sometimes appreciated on proctography if contrast is injected into the sigmoid as well. It may rarely reveal that the sigmoidocoele causes pressure on the anterior middle & lower rectum on straining and interfering with defaecation. More commonly it wil reveal complete failure of emptying of the sigmoid on defaecation as the possible cause of the patient's fullness & sense of incomplete evacuation.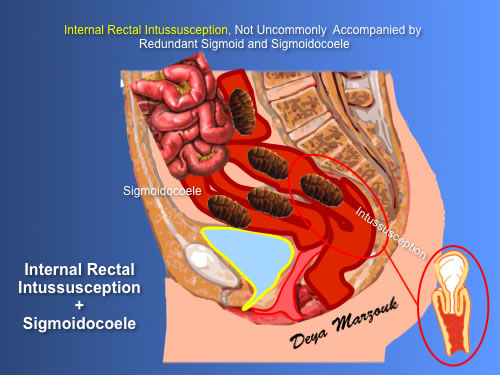 Sigmoidocoele is also appreciated on laparoscopy, which may show that it is stuck to the bottom of a deep pouch of Douglas. Treatment in severely symptomatic patients is done simultaneously with intussusception with a laparoscopic resection-rectopexy + cul-de-plasty